5 Cannabis Cocktails For The Holiday Season
'Tis the season for parties – and what better time than the holidays to sip on 5 Cannabis Cocktails For The Holiday Season?
Sinfully delicious, and full of festive feels, we are certain you'll love one or ALL of these cocktails.
So turn up the Yuletide carols, grab a turkey and some mistletoe, and add Cannabis to help to make the season even brighter!
What Can I Expect When Consuming Cannabis Drinks?
When you consume Cannabis in the form of drinks, you'll most likely feel the alcohol first, then an hour or more later, you'll feel the effects of Cannabis.
Just be cautious for those who are beginners or novices, because using alcohol and cannabis together magnifies the effects. BIG time.
If you're experienced with getting crossfaded (being high and drunk at the same time) then this should be a breeze of a buzz!
#1. Cannabis Egg Nog
I used to absolutely hate egg nog. I couldn't even be near it – but over the years, I've played and adjusted ingredients, but with Cannabis? OMG – so yum.
Did you know? Medieval monks in Britain were known to drink "posset", which was a warm ale punch with eggs and figs.
Over the years, this beverage has merged into the traditional and common-day egg nog. Who knew?!
Here's the recipe, enjoy!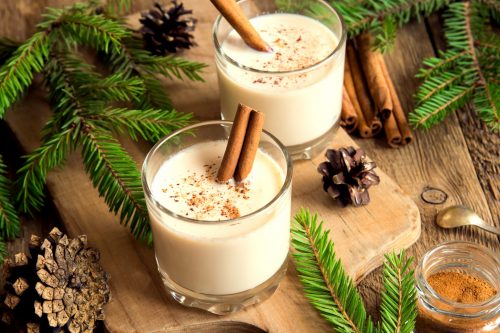 Author: Steph Van De Ven
Cost: 20-25
Electric Mixer

Bowls

Whisk
5

Egg yolks

1/2

cup

Sugar

2

cups

Whole milk

4

tbsp

Cannabis Butter

melted

1 1/2

cups

Heavy Cream

1 1/2

tbsp

Vanilla

5

Egg whites

2

tbsp

Sugar

1

pinch

Freshly grated nutmeg per cup

1

pinch

Cinnamon per cup

1

ounce

Rum per cup

Spiced is nice, regular is good too.
With your electric mixer, beat the yolks. While the mixer is running, add the sugar in a stream. When the sugar has dissolved add the milk, cream, Cannabutter and vanilla. Mix until well blended.

In a separate mixing bowl whip the egg whites until they reach soft peaks. Add the remaining sugar and beat until stiff.

Then, hisk the egg whites in, and chill.

Add your 1 ounce of rum per glass, and fresh nutmeg on top!
Next up on the list for 5 Cannabis Cocktails For The Holiday Season is something I've never tried until I started mixing it up.
It is SO good, and it's served hot – so when the weather gets chilly, your vibe will be warm.
#2. Cannabis Hot Buttered Rum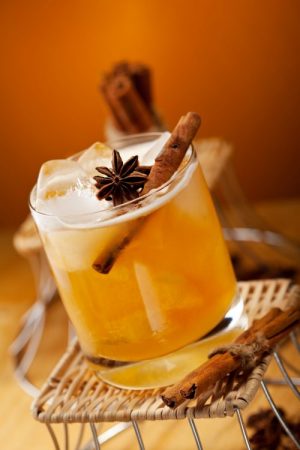 Servings: 4 people
Author: Steph Van De Ven
Cost: 25
Electric Mixer

Bowls

Whisk
1/2

cup

Cannabutter

Room temp

1/2

cup

Brown sugar

1/2

tsp

ground ginger

1/2

tsp

ground cinnamon

1/2

tsp

ground nutmeg

more if you like it

1/8

tsp

Vanilla extract

6

ounces

Rum

dark rum is great, but you can use white rum too (Cuban dark is the best!)

3/4

cup

Boiling water
Beat cannabutter, sugar, ginger, cinnamon, and nutmeg with an electric mixer on medium speed for about one minute.

Combine 2 tablespoons of your newly spiced cannabutter mixture with 1.5 ounces of dark rum in each of 4 coffee mugs.

Pour 3/4 cup boiling water in each mug and stir. Don't want water and want it straight up? You can warm up your mixture on the stovetop and forget the water.
On to the next delicious Cannabis-infused Holiday Drink!
One of my all-time fav's for the holidays and well.. Wintertime in Canada in general? Hot Toddy's. But today, I'm calling it "Pot Toddy"!
Made with Whiskey I'd suggest using Jamieson's or Tennesse Whiskey. In Canada, we have Crown Royal, and they just launched a Maple Syrup infusion which tastes incredible!
#3. Whiskey-Weed Hot Toddy
Hot toddies, plain and simple, are a combination of spirits, honey, hot water and spices served warm.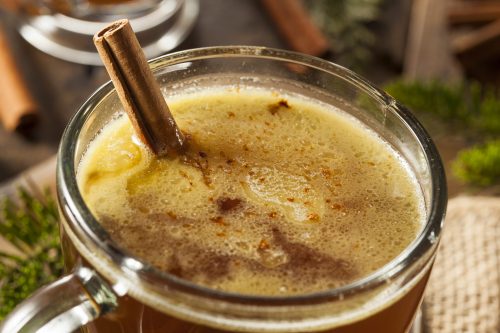 Servings: 4 people
Author: Steph Van De Ven
Cost: 20-30
2

cups

Hot Cider

Liquid version

1/4

ounce

Honey

1

pull/drop

Cannabis Tincture

Preferably Alcohol-based

1

stick

Cinnamon

Per Cup

1

wedge

Lemon

Per Cup
Heat 1 to 2 cups of hot liquid cider until boiling. Microwaving is fine too.

Add 1/4 ounce honey and 1 pull/drop of tincture to the mix.

Use 1 ounce of whiskey per cup and pour your mix on top and mix it with a spoon.

Garnish with cinnamon stick, lemon wedge, and enjoy!
#4. The Weed Russian
For this festive drink, you'll need to make Cannabis-infused heavy cream – and you can just follow the recipe here, replacing milk with cream.
Save the rest of the infusion for other recipes later on!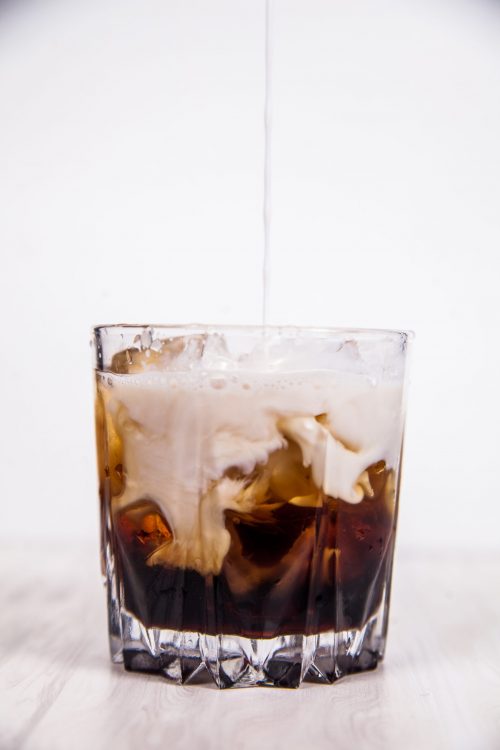 Author: Steph Van De Ven
Cost: 20-30
2 1/2

cups

Freshly brewed coffee

1/2

cup

Cannabis Infused Cream

1/2

cup

Kahlua

1/4

cup

Vodka
Once your coffee is brewed, in your saucepan, stir together the coffee, cannabis cream, Kahula and vodka over medium heat until thoroughly warmed.

Serve in coffee mugs and enjoy!
#5. Cannabis Cranberry Holiday Margarita
The recipe to infused Tequila is below, and once you've mastered that you can infused thousands of tasty drinks for Christmas and beyond!
To make this Cannabis Cranberry Holiday Margarita: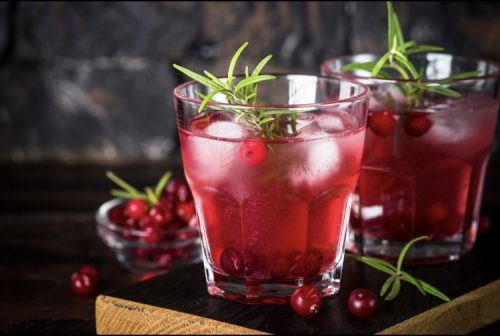 1 1/2 cups cranberry juice
3/4 cup fresh lime juice
3/4 cup Cannabis-infused-tequila
1/2 cup orange-flavored liqueur, such as Cointreau or Triple Sec
ice cubes
Stir all of your ingredients together until blended. Serve over ice in sugar- or salt-rimmed glasses, garnished with fresh cranberries and lime wedges.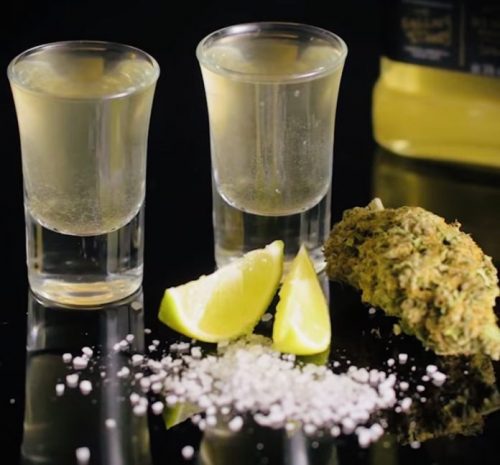 Calories: 40kcal
THC: 350mg
Set your oven on 240f

Decarboxylate your cannabis: placing it in an oven tray and wrapped up in tin foil. Place your cannabis in the oven for minimum of 20 minutes. Up to 40 min.

Wrap your decarbed cannabis in a pantyhose or small cheesecloth and wrap tight so it will fit into the top of the tequila bottle. And place it in your bottle.

let stand for at least 24 hours up to weeks. And shake every 12 hours.
Calories: 40kcal | Fat: 20g
Hope you enjoyed these 5 Cannabis Cocktails For The Holiday Season!