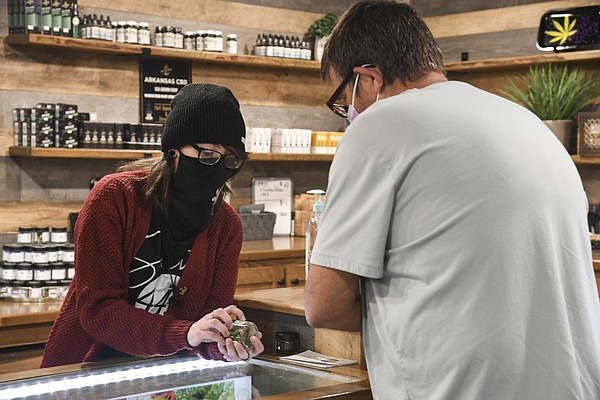 Dispensaries reported $1.22 million in sales on New Year's Eve, the highest revenue day for the medical marijuana business since the state's first legal sale of the drug in May 2019.
The sales report the state revenue agency released Wednesday said the record day was part of $17.4 million in sales for the 26-day reporting period that ended Monday. Dispensaries have reported more than $218.1 million in sales in the 20 months since the state's first legal sale of the drug was transacted in Garland County.
Daily sales averaged more than $660,000 during the 26-day period, beating the $622,000 reported during the 22-day period that ended Dec. 16 and the $562,500 during the 16-day period that ended Nov. 24.
According to the report released Wednesday, The ReLeaf Center in Bentonville has surpassed Green Springs Medical, the only licensed purveyor of medical marijuana inside the city limits of Hot Springs, in total sales. The Bentonville dispensary reported 3,613.90 pounds sold through Monday compared to Green Springs' 3,490.91 pounds.
The Tax Procedure Act prohibits the state from releasing revenue figures for individual dispensaries.
The ReLeaf Center opened three months after Green Springs but began making inroads on the latter's sales lead last year. The 270.50 pounds it logged for the reporting period that ended Monday topped all 32 dispensaries in operation. The ReLeaf Center has led six out of the last seven sales reports.
The 76.69 pounds Green Springs tallied in the latest sales report ranked 12th. It's finished 12th in the last four reports.
Suite 443, Garland County's other licensed dispensary, ranked third in the report released Wednesday, reporting 205.94 pounds in sales. It ranked third, fifth and fifth in the three previous reports.
The 227.60 pounds Natural Relief in Sherwood reported ranked second for the period that ended Wednesday. It ranked second and first in the two previous reports. Plant Family Therapeutics in Mountain Home finished fourth in the most recent report, reporting 179.87 pounds sold. Purspirit Cannabis in Fayetteville ranked fifth with 154.64 pounds in reported sales.
Spring River in Hardy opened on Jan. 7, becoming the 32nd dispensary to open in Arkansas. The Department of Finance and Administration said six more license holders are in the process of opening. The Medical Marijuana Commission has awarded 38 of the 40 licenses permitted by the state constitutional amendment voters approved in 2016.