Every company that seeks to introduce cannabis to affluent or more conservative demographics confronts negative stigma. This is heightened for retailers whose fixed locations inevitably draw opposition from city councils and neighborhood groups. From the unfounded assumption dispensaries increase crime to plummeting property prices, the legacy of teaching people to fear the reefer still lingers in the air.
Often something extra is required to challenge the notion pot equals crime, like a young Charlotte Figi using CBD to treat epilepsy. In the case of the aging and affluent Palm Desert, California, community, changing mistaken assumptions required a deeply respected local business magnate rolling the dice on the emerging cannabis industry.
From building the country's second-largest glass company (think windows, not bongs) to nationwide casinos and racetracks to his legendary BIGHORN Golf Club, the late R.D. "Dee" Hubbard forged a successful and influential path across several American industries for more than half a century. In one of the final and more playful acts of his heralded career, Hubbard combined his love of risk-taking and cannabis consumption. The result: The Leaf El Paseo, one of the country's most striking and ambitiously located dispensaries.
Beyond his business accolades, Hubbard enjoyed an upstanding reputation in the Palm Desert community for his philanthropy, giving away many millions throughout his lifetime to a variety of education, art, and health charities. Yet despite his considerable stature locally, his final project's existence was far from assured. "There was a lot of uncertainty," said Paul Cotterell, The Leaf's general manager and Hubbard's nephew-in-law. "We heard a lot of the same arguments we've been hearing for a long time in the cannabis industry.
"They thought it was going to lower the standard of what Palm Desert represents, that cannabis was a gateway drug," he continued. "Parents were concerned edibles were going to be dropped out in the street and their kids would find them and get high."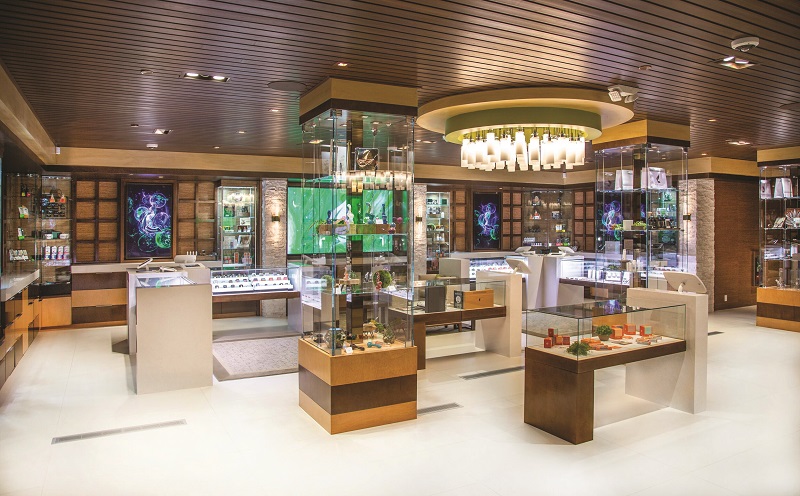 The city council had opened just six retail licenses with a merit-based application process. Hubbard and Cotterell wanted to create a luxury pot boutique on El Paseo, the Rodeo Drive of Palm Desert. Their vision was to create a retail storefront that could stand alongside Saks Fifth Avenue and the Louis Vuitton store, both blending in and standing out, opening minds to the modern cannabis experience.
Getting support for a dispensary on a strip of luxury commercial real estate like El Paseo would have been a non-starter for most, but such was Hubbard's standing in the community and so ambitious was the concept they were able to bring everyone around. "Once they realized we were taking this very seriously and we're here for the betterment of Palm Desert, I think they started to feel relaxed and they gave us a shot," Cotterell said.
They got the green light for the project in 2018 and set about the slightly daunting task of creating a store that matched its peers for class. "Being in El Paseo, we had a tall threshold," Cotterell said. "To appeal to that type of consumer base, your aesthetic standards have to be really high."
From the street, The Leaf blends in perfectly, sharing the discreet confidence and measured opulence of its surroundings. The reception area is inviting and provides plenty of seating, somewhat like the coffee bar at an upscale spa. The shop floor feels like an exclusive experience, exuding class with hardwood paneling and a chic contemporary chandelier that brightens the room. Products are intentionally placed around artfully lit glass cabinets, giving customers a chance to peruse, find their feet, and understand the diversity of offerings.
"We set a high standard for ourselves," Cotterell said. "The environment needed to be safe and inviting; the store needed to be aesthetically pleasing to the point of subtle elegance."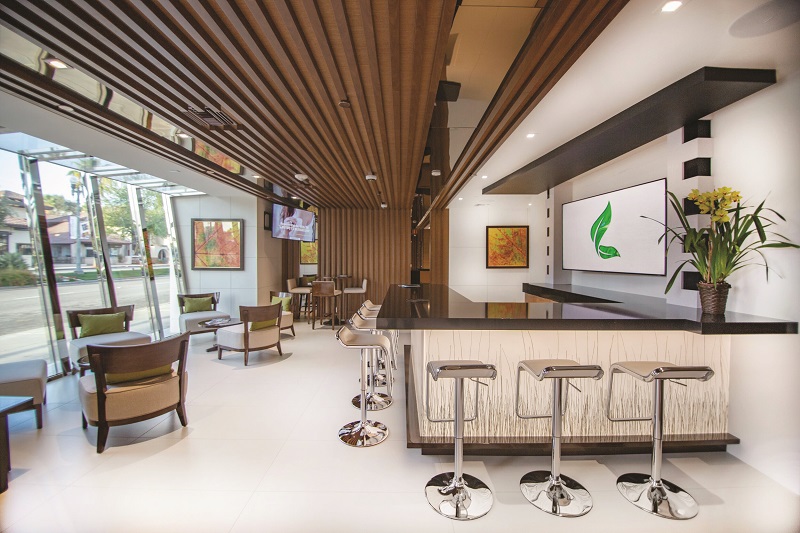 Beyond aesthetics, the store needed to function in a way that kept customers comfortable while maintaining high levels of efficiency. "I traveled up and down the entire West Coast checking out dispensaries that were known to be well-designed with great layouts and had good flow. I saw some beautiful spaces, but something was off in each of them," Cotterell said.
The Leaf team created its own approach using something they call "quads." "There's a quad in each corner of the store, and each customer goes to a quad and gets a one-on-one experience," Cotterell said. "They speak with a consultant, and that person talks about products, educates, and processes the order as well."
The personalized, engaged service is a hit with customers, but it's also very efficient. "We can handle a lot of foot traffic this way, and our employees don't have to make a lot of extra movement," Cotterell said.
Given The Leaf officially opened its doors in March 2019 and the tourism season runs from November to June, the store has yet to enjoy its first full season under normal circumstances. Yet despite the pandemic's influence on the tourism industry, Palm Desert has been spared the worst of the situation.
"With travel restrictions we lost our Canadian tourists, which are a huge part of the market here in the valley," said Cotterell. "However, with the heat waves, the pandemic, and fires happening throughout California, we saw a massive uptick in local traffic. Palm Springs is a respite and refuge to many people during times like these."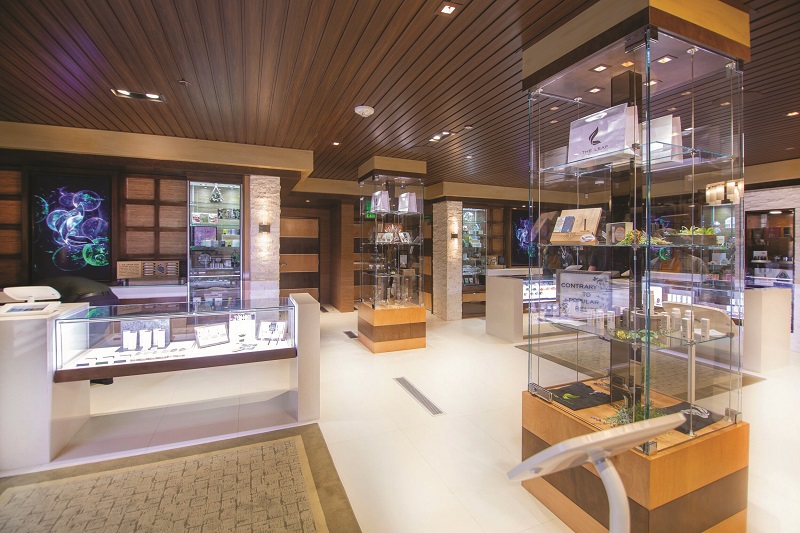 Hubbard died April 29, 2020, a year after the store opened. Before he departed, he got a glimpse of his final business venture taking flight—thriving, well-received by the community, and turning a profit. "He saw a flourishing January, February, and March, and I think that made him extremely happy in his last days," Cotterell said.
Hubbard had been an advocate for the cannabis industry for many years, enjoying the plant both recreationally and medicinally in his later life. The Leaf combined his love for cannabis, his serial entrepreneurship, and his commitment to the health of his community.
"I can tell you that he was extremely proud of The Leaf and how everything turned out," said Cotterell. "Until his dying day, he told everyone they needed to drop by and give it a try."